Rural Public Transit Program Serving Preston County, WV
Buckwheat Express is a public transit program proudly providing reliable traditional, deviated fixed route, and demand/response public transportation services to all residents of Preston County, West Virginia. We also offer reserved-ride medical, nutrition, and shopping transportation for seniors and individuals with recognized disabilities. Buckwheat Express is pleased to offer our ride services at reasonable rates. Individuals aged 60+ ride at no charge.
Regional Trip Planner
As part of the regional transportation network, Buckwheat Express works together with other transit service providers to help Preston County residents travel with ease to destinations near and far. We recently developed a trip planner to assist with travel coordination arrangements and planning. Buckwheat Express continues to work on improving local residents' access to a wide range of essential and auxiliary services and by these efforts it is our hope that our riders are able to make connections that improve their lives.
Our History
The Buckwheat Express public transit program was operated by the Preston County Commission until Preston County Senior Citizens, Inc. assumed operations in 1989. At that time, there were 4 vehicles in operation. In 1997, our service garage was built and by 2005 we established a vehicle storage facility to help protect our fleet. Today, Preston County Senior Citizens, Inc. continues to operate Preston County's rural transit services with a commitment to providing quality, reliable transportation throughout the communities we serve.
Our Fleet
Buckwheat Express maintains a fleet of twenty-one vehicles to serve the transportation needs of Preston County residents. The fleet is comprised of 23 passenger buses, 12 passenger vans, several minivans, and numerous 4-wheel drive utility vehicles. All Buckwheat Express vehicles are carefully maintained to be in road-safe condition, clean, and comfortable before they are put into service. Our fleet is kept safe at all times with our ongoing routine maintenance program.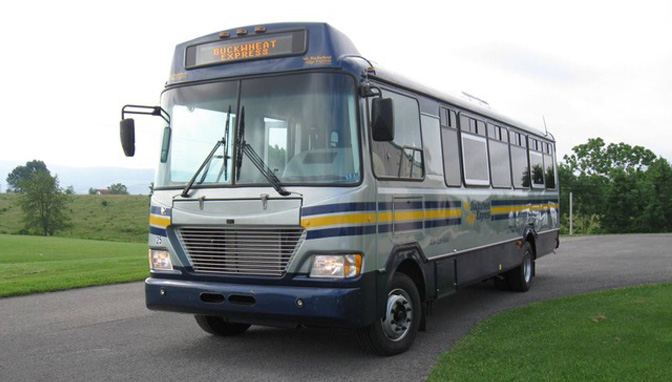 Our Drivers
At Buckwheat Express, we only hire the best. Our drivers are skilled professionals with clean driving records – and many have even received awards for their excellence in safety and accident-free driving. In addition, when you ride with Buckwheat Express, you can rest assured that your driver is trained to provide passenger assistance, first aid, and CPR.
Our Services
Buckwheat Express offers scheduled fixed route services to the general public, as well as Medical Escort, Medical Appointment (non-escort), Nutrition, and Community Shopping transportation programs designed to meet the needs of the special populations we serve. We strive to provide excellent accommodations as required for community members of advanced age and individuals with functional deficits in hearing, vision, transferring, and/or comprehension.
Our Commitment to Accessibility
Buckwheat Express buses and vans are designed to be accessible to those with many types of mobility concerns and disabilities. Our passengers in wheelchairs can easily access our vehicles with assistance accommodations including wheelchair lifts and fully handicap-accessible design. Riders in wheelchairs ride safely with the security and convenience of our integrated wheelchair restraint system, which secures the wheelchair for the duration of the ride so there is no need to transfer into another seat. Riders who use walkers, canes, and other mobility assistive devices are also welcome to use our lifts for ease of access.
Our Commitment to Safety
Buckwheat Express is fully committed to providing the safest possible transportation services for our riders. We have received numerous awards for excellence in service, vehicle maintenance, and employee proficiency. We take great pride in offering a service that is safe, clean, and reliable.
We invite you to learn more about Buckwheat Express and the services we offer. If we can answer a question or provide further transportation-related assistance, please call us: (304) 329-0464. We look forward to hearing from you!